African Safari - Busanga Plains, Kafue National Park, Zambia
And so begins our next African safari, and the destination is Zambia. Here we will visit three of Zambia's best National Parks, before finishing up at one of the Wonders of the World, Victoria Falls.
Our first destination in Zambia is the Busanga Plains, part of Kafue National Park in western Zambia. At more than 20,000 square kilometres, Kafue National Park is a massive national park, the largest in Zambia and one of the largest in the world. The park is divided into northern and southern sectors, and much of it is accessible by self-drive safari, but we are headed to the remote far north of the park, into the spectacular Busanga Plains, known as the Jewel of the Kafue.
Flooded for more than half the year, the Busanga Plains can only be visited from June to November. Here, as the floodplains evolve into grassy savannah, the land fills with herds of puku, red lechwe and buffalo, while the waterways are full of pods of hippos. Closely behind are the predators - lions, leopards, cheetahs and wild dogs. While the concentrations of game are not as rich as in some national parks in Africa, and probably less than the two most popular national parks in Zambia, the South Luangwa and the Lower Zambezi, it is the beautiful scenery and the isolation of this region that draws the true safari enthusiasts.
Upon our arrival in mid-July, much of the land is still marshy. After landing at the Plains airstrip, and being greeted by two recently-sated cheetahs, we drive towards our lodge, Wilderness Safaris' Shumba Camp, for as far as the track goes. When the ground becomes too sodden, we transfer to mokoros to glide, Venetian-style, through channels made by hippos, until we reach solid ground again, where the safari vehicles from Shumba meet us and continue our journey into camp. While an adventure for us, we do not envy the camp team, who refurbish and re-supply the camp at the beginning of each season, transferring everything they need by boat and mokoro for much greater distances than those currently remaining.
July is mid-winter, and the mornings are cold on the Busanga Plains. We rise before dawn for spectacular misty sunrises, grateful for the plumbed hot water that fills our tent with steam. We linger over coffee and porridge on the deck of Shumba Camp, warming our gloved hands on the mugs and bowls, watching as the outlines of antelope emerge from the haze, while nearby hippos chuckle and buffalo snort. When the sun finally bursts through the mist (in all its African, no-filter-needed-here, luminescent glory) it is time to depart on a morning game drive. Suitably rugged up in beanies, scarves and fleece, the thoughtful staff at Shumba also provide thick blankets and hot water bottles ("bushbabies") to keep us not just warm but toasty as we venture out into the three degree air.
Our guide for our three day stay at Shumba is Isaac, a longstanding member of Wilderness Safari's Busanga Plains operation, and a keen and successful photographer himself. Wildlife guides in Zambia are known to be among the best in Africa, but Isaac in a class of his own. His knowledge is expansive and enthusiasm is infectious, and he is obviously passionate about this beautiful part of the world. In addition, he is endlessly patient with us and our photography, waiting while we attempt the perfect shot, inching forward to improve our angles, predicting what the animals will do and making sure they are illuminated in the best light when they do.
Our first morning game drive in the Busanga Plains starts gently, easing across the plains in the golden light, the spiderwebs in the long grass twinkling with dew. We admire sausage trees and the nests of weaver birds, lilac brested rollers and crowned cranes, unperturbed pukus and skittish lechwes, a surly solitary hippo and African fish eagles (the national bird of Zambia). As the sun rises and the air warms, we remove our scarves and gloves, but keep the deliciously warming hot water bottles on our laps for a little longer. The scenery is stunning and the feeling of being back in Africa is wonderful.
Suddenly the walkie-talkie crackles into life. Isaac greets his colleague warmly and chuckles as he talks in Bemba, the local dialect. Then he turns to us with a grin... "Would you like to see some lions?" Soon we are dashing across the plains - a vehicle from Shumba's sister camp, Busanga Plains Camp, has spotted two large male lions dozing in the morning sun, and soon our Landrover is sneaking in next to theirs, to admire this magnificent pair.
Sprawled and basking, the two lions are nearly motionless, with just an occasional flick of their tails or twitch of their ears suggesting they are aware of our presence. Eventually, the guests in the other vehicle have seen enough, and depart to return to camp for breakfast. But as is often the case on safari, patience is rewarded, and soon the boys decide it is time to rouse, with just us to watch as they yawn and stretch and pose in the morning light. As we watch, enthralled, Isaac fills us in on the history of these two males: newcomers to the region, and likely to make their move on the region's existing pride in the near future.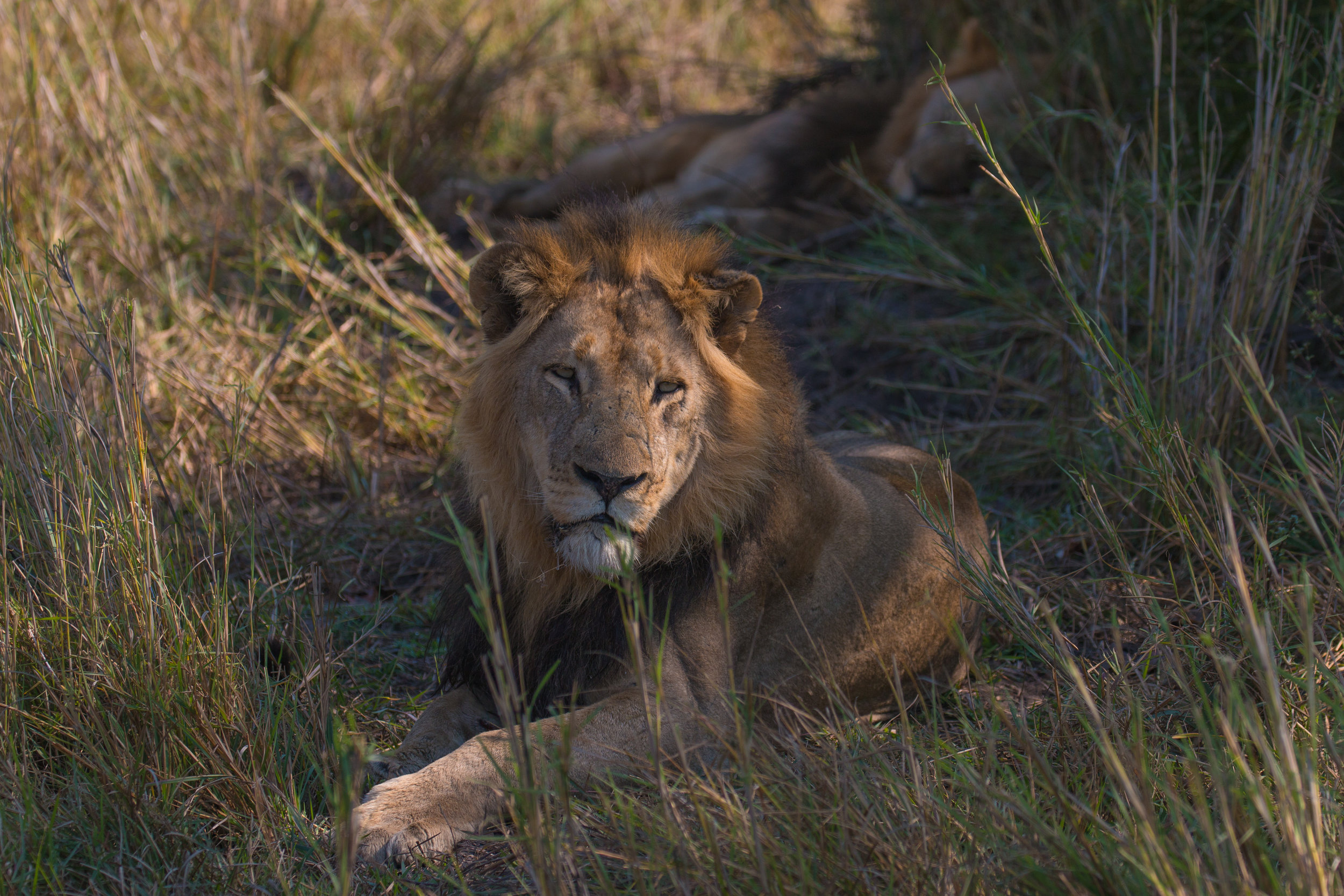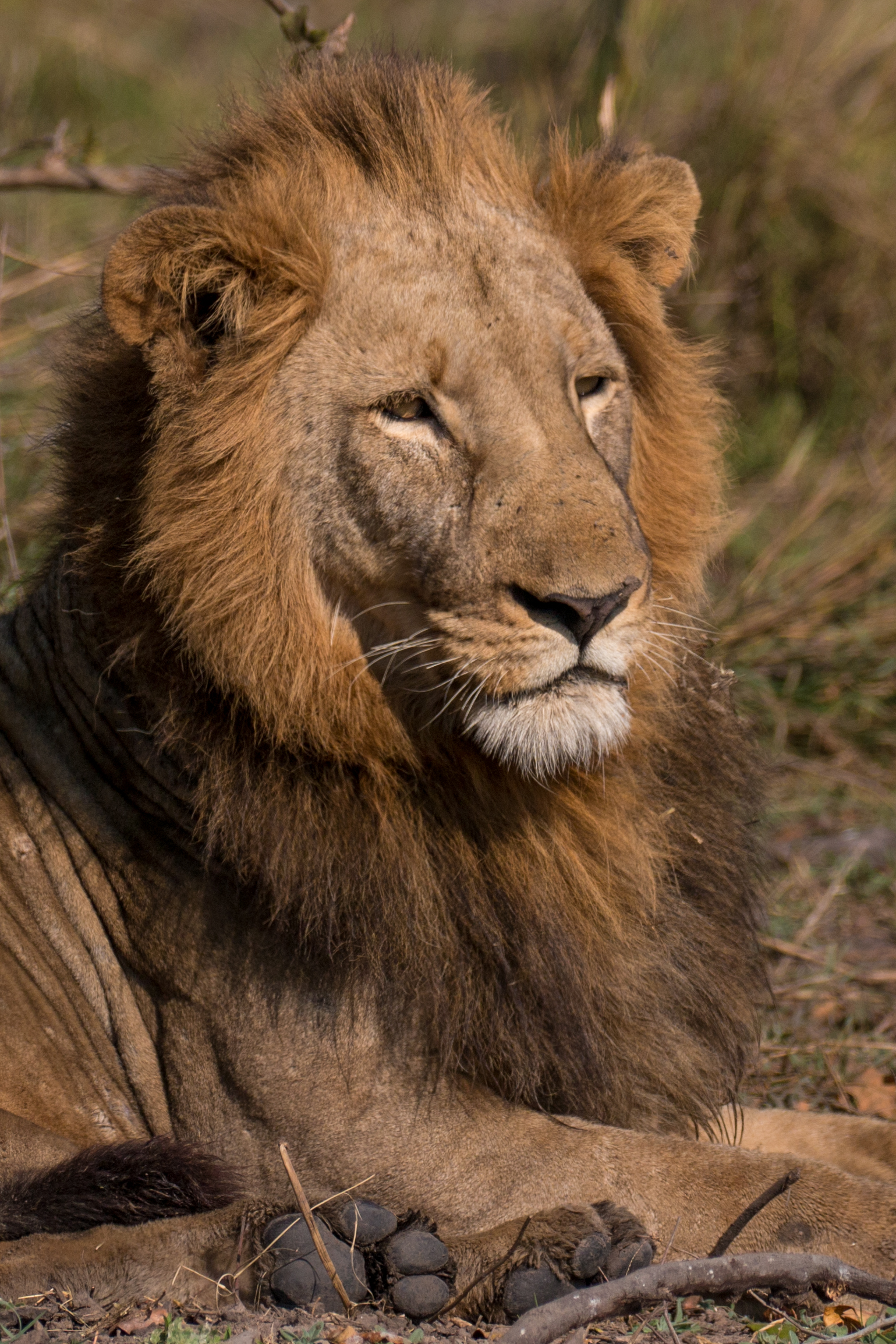 Eventually, the lions wander off into the thick grass, and we return to camp for brunch, exhilarated with our first Zambian game drive. But there was so much more to come. In the afternoon, still full from our decadent brunch, we are treated to high tea as we decide what to do for our afternoon game drive. At Isaac's recommendation, we decide to go out on the water, using the camp's small flat-bottomed dinghy. While the Lower Zambezi is well recognised for its water activities, this experience in the Busanga Plains is one not to be missed if there are still bodies of water in the area. The small boat took us through the reedy channels and pools to come face to face with buffalo, hippo, crocodiles and a multitude of bird life. But the highlight of the afternoon is the hippos - years of experience mean that Isaac and his fellow guides can manoeuvre ridiculously close to pods of hippos, and the hippos remain relaxed and unperturbed. So saying, as a baby hippo seemed to want to investigate us more closely, while mama hippo seemed ready to intervene, there were just a few nervous moments!
One of the highlights of a luxurious African safari is the attention paid to sundowners, and Shumba Camp is no exception. Each night, a scenic location was chosen as the sun sank below the horizon in a cacophany of reds and purples, toasted with a gin and tonic and an array of delectable snacks. Then, as the light waned from the sky and the savannah slowly became subdued, we return to camp with a night safari, a spotlight piercing the darkness around us in the hunt for nocturnal wildlife.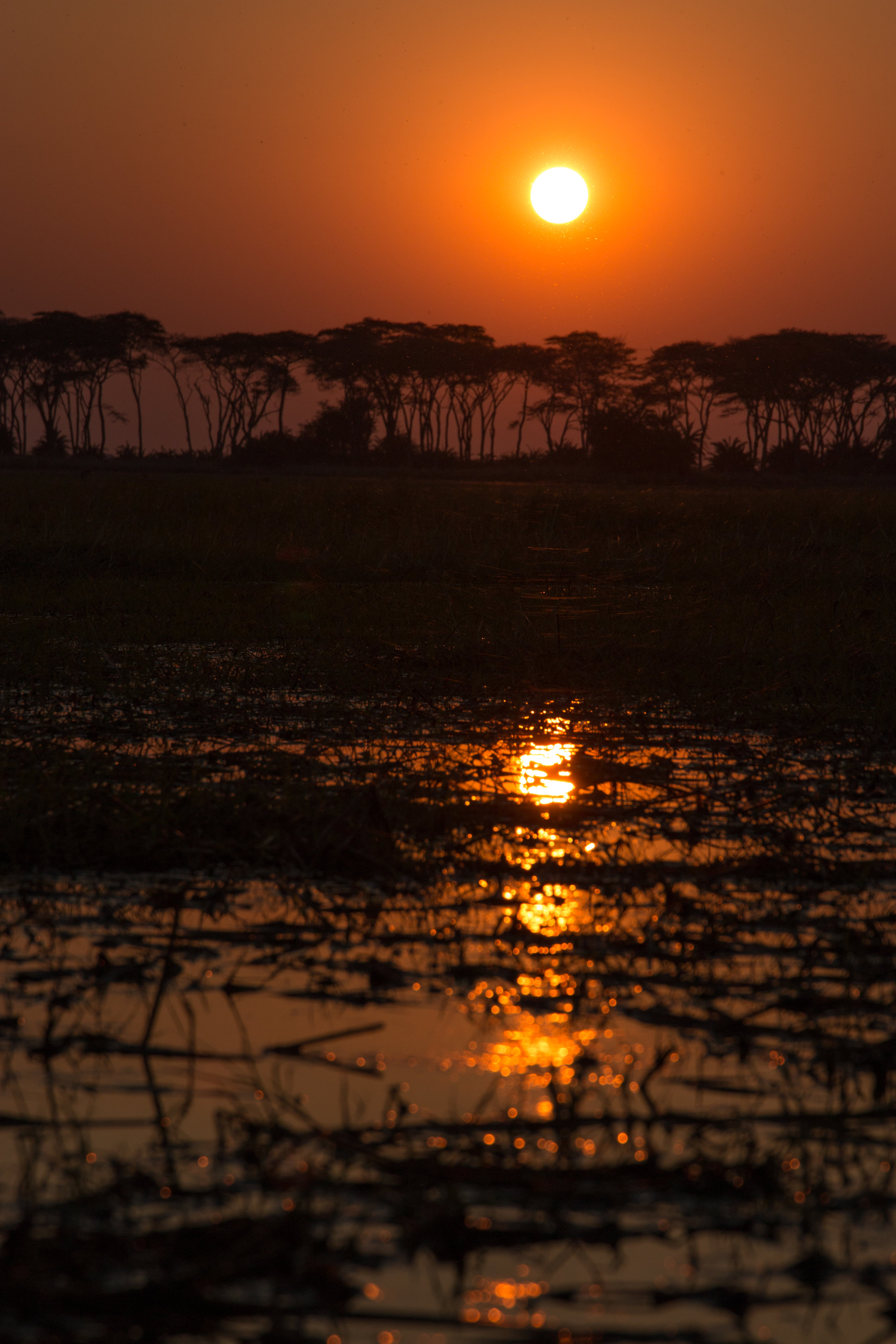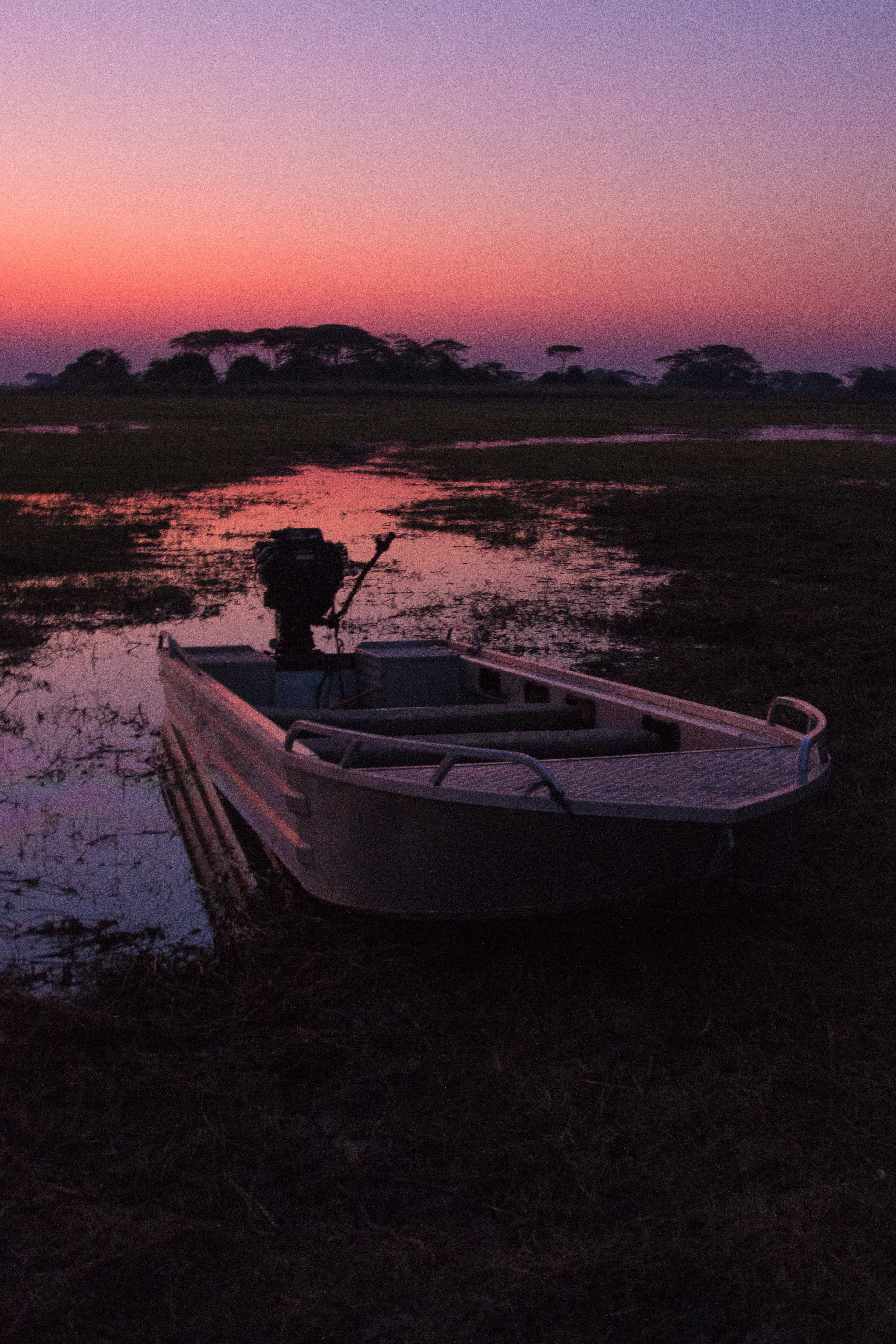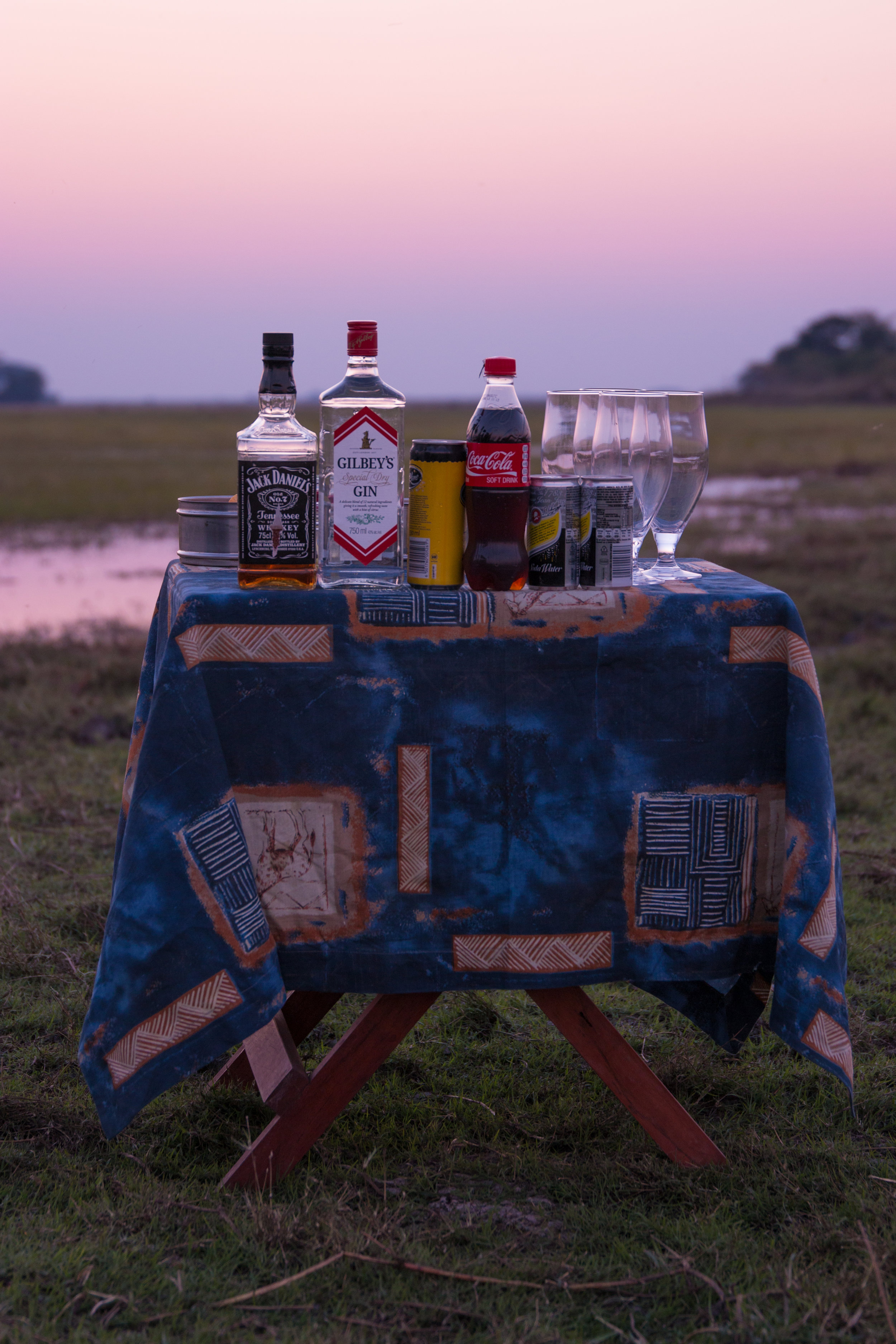 Our second day in the Busanga Plains was greeted with another spectacular sunrise, and more beauty all around us. Crocodiles, hippos and wildebeest, fleet-footed jackals and leaping lechwe, and a hair-raising interaction with a very large and very disgruntled bull elephant.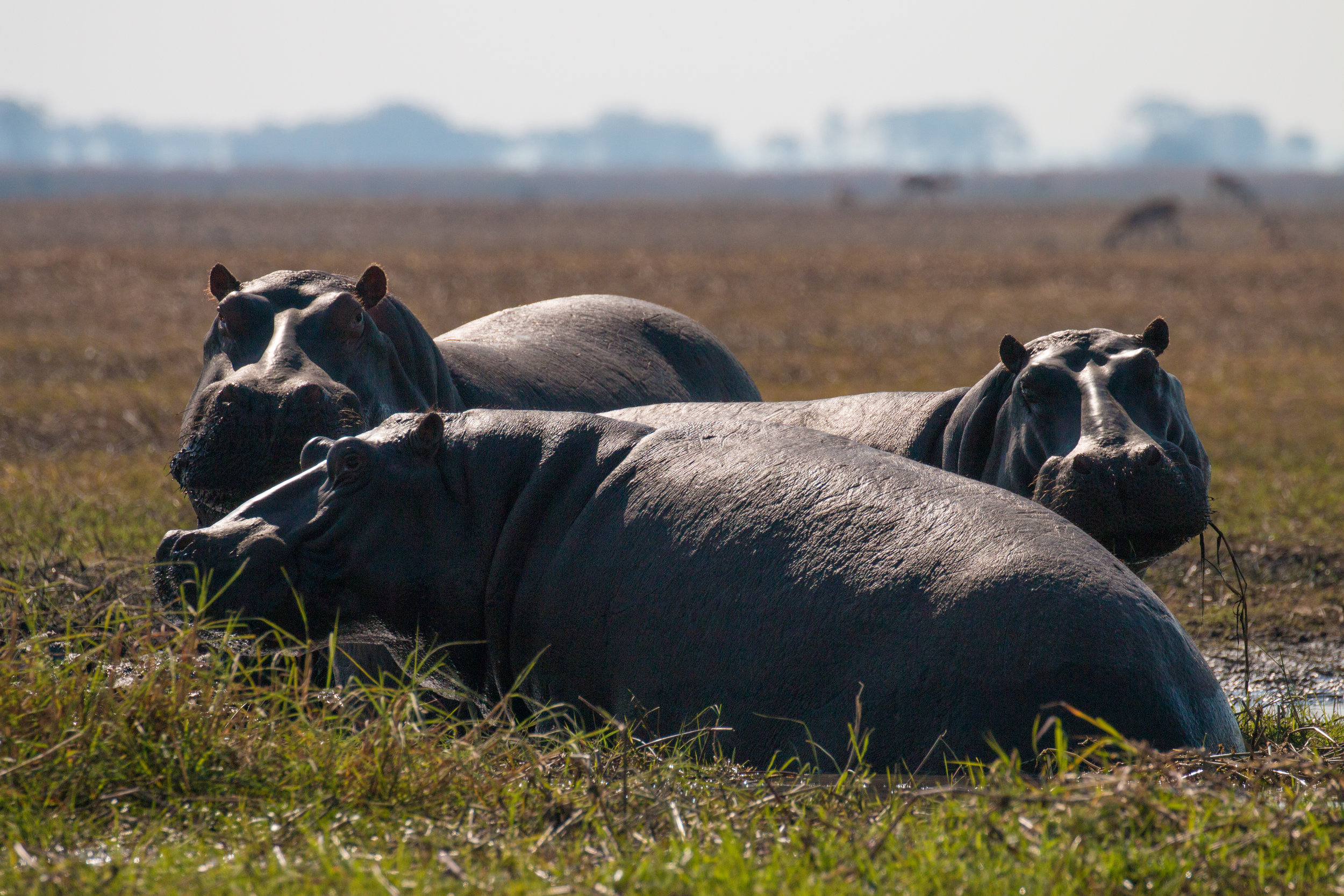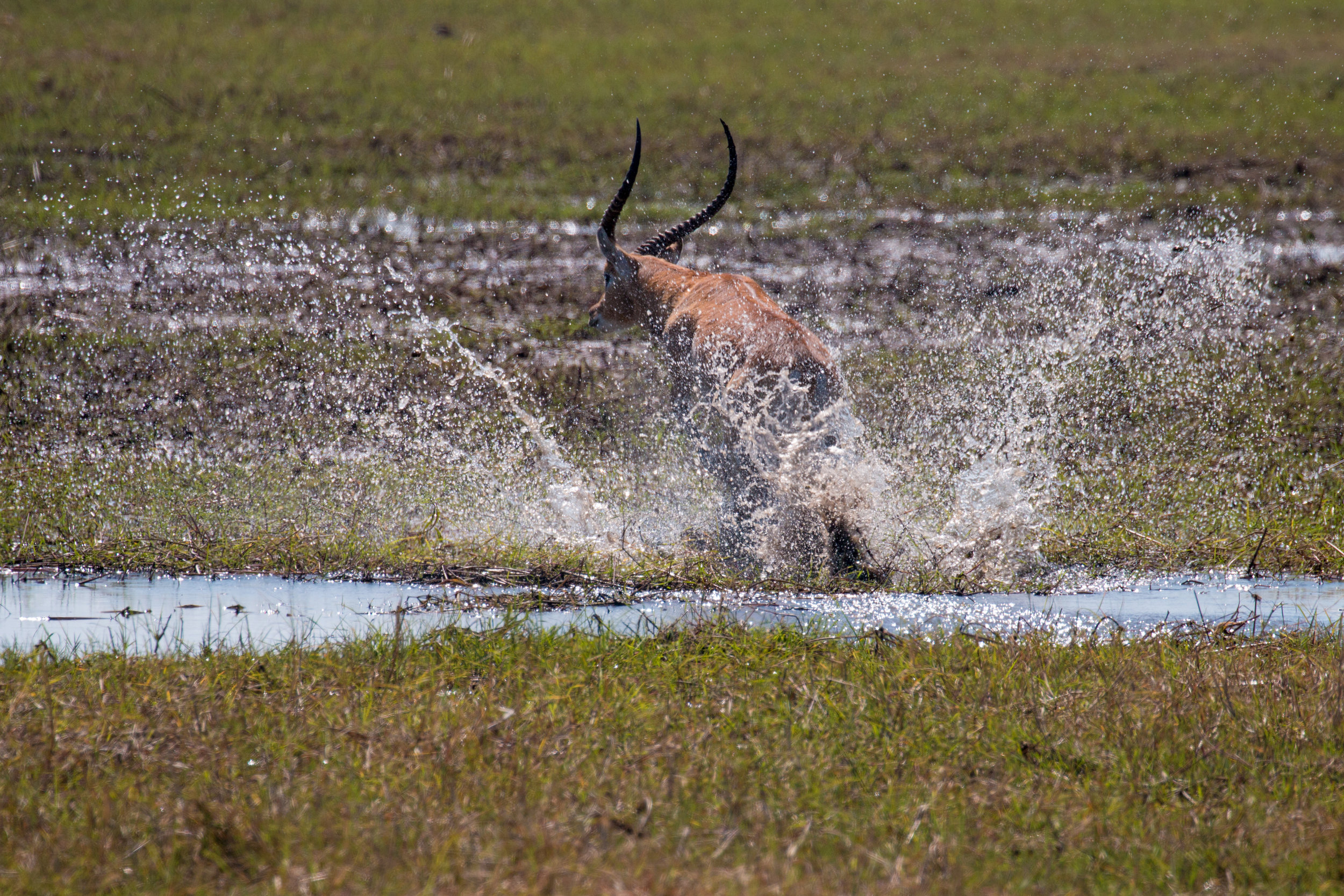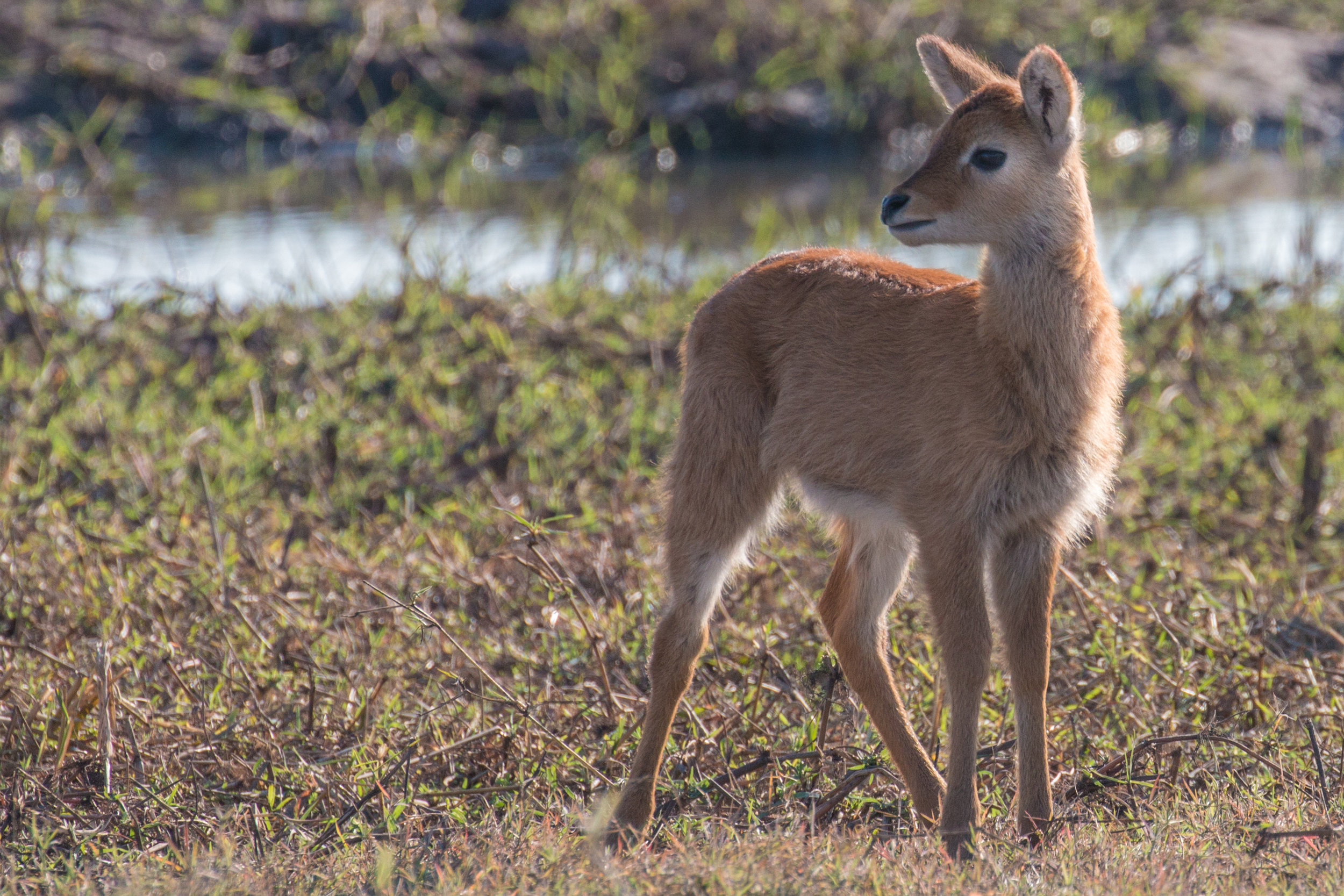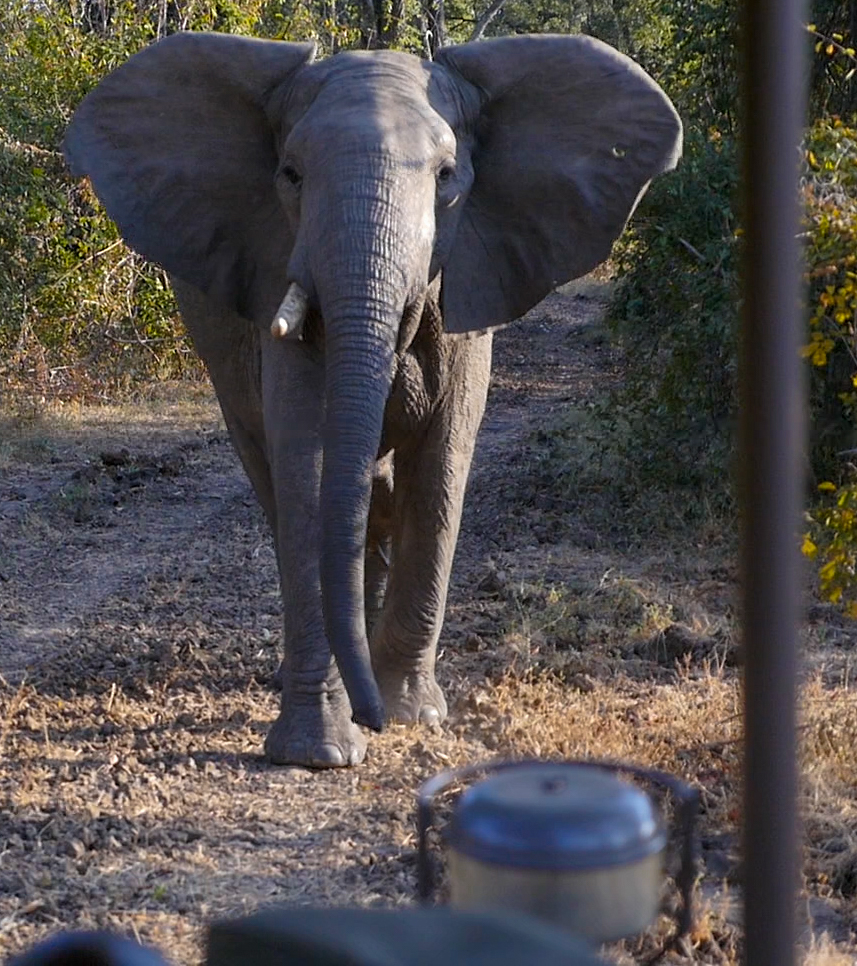 Our third day saw us departing, far too soon, from the Busanga Plains. This was a stunning introduction to our Zambian safari adventure, and we would highly recommend Busanga Plains to all safari enthusiasts with enough time to add this to their Zambian itinerary.
Summary
Why Go
Kafue National Park is a huge and under-visited Zambian National Park, and Busanga Plains is the prime area for wildlife viewing in the park, as well as one of the most scenic regions. While the wildlife is perhaps not as prolific as in other African national parks, it is so uncrowded that almost all wildlife sightings will be yours alone, and it feels very remote and exclusive, a real hidden gem. So saying, if travelling to several Zambian national parks, we would recommend travelling here first, before one becomes accustomed to the more profuse wildlife of the South Luangwa or the Lower Zambezi.
When To Go
The Busanga Plains are only open to visitors from June to November, and Shumba Camp only from approximately 1 June until 30 October. Early in the season, from June until early July, the plains are still muddy, potentially restricting the area available for game drives, but on the flipside, when the waterlogged area is too large, travel in to and out of the camps is by helicopter transfer! From July, extensive game drives are usually possible, and the scenery is stunning, but the mornings and nights remain chilly. From August, balloon safaris are offered, and as the weather warms up and the plains dry out, wildlife concentrations increase around the remaining waterholes, although there is less opportunity for water based activities.
How Long to Stay
We would recommend a minimum of three nights, and possibly four. Given the time it takes to get to the Busanga Plains, it is best to make the most of the opportunity, and every day brings new adventures and new possibilities. When the land is dry, there are many different opportunities for game drives in different directions, and there is little likelihood of repetitiveness.
Where to Stay
We can highly recommend Shumba Camp, a luxurious and slickly-run operation by the well-renowned Wilderness Safaris (see our review here).
Know Before You Go
§ It is properly cold in the mornings in June and July! Take a scarf, gloves, beanie and fleece, and if you feel the cold (like me) make room in your limited luggage allowance for thermal underwear. By mid-morning, the days are beautiful - warm enough for t-shirts, but definitely not hot (and so the plunge pool at Shumba was not investigated!).
§ There is no wi-fi or phone coverage - download everything you need before you arrive.
§ You will take far more photos that you can possibly imagine. Buy a ridiculous amount of memory cards (double what you think, then double it again), and dedicate a small amount of time during siesta time to delete some shots and free up some memory space (and no, those blurry shots will never be worth keeping, even with post processing).
§ Tsetse flies are listed as a problem in Kafue National Park, and you are advised to avoid blue and black clothing, which attracts them. We understand that recently measures have been undertaken to reduce tsetse fly populations in the region, and while we did experience them near the airstrip, the rest of our stay at this time of year was tsetse-fly-free.